A few days ago, The Smutsonian introduced you to our new
Guest Bloggers
– Today they're putting their interview skills to the test by interviewing Shurrn – The Creator and Head Curator of The Smutsonian. She's a world famous book reviewer, an internet celebrity, and she can fire us from the blog if we don't give her an awesome introduction, so here goes:
2014 saw the launch of a blogger nobody saw coming, but everyone was clamoring to work with. At the end of a whirlwind year, Shurrn is sitting down with a panel of The Smutsonian's 2015 guest bloggers and learning what it feels like to be on the other end of some of her infamous interview questions.
What is a Shurrn?
It throws people when they see the name in print. "Shurrn" rhymes with "burn" if that helps My parents named me Sharon. When I was in high school, my oldest nephew was just a toddler and couldn't pronounce my name properly. He called me "Annie Shurrn" instead of "Auntie Sharon" also, when he wanted attention, he would say "talka you" as in, "I want to talk to you".
One day I was hanging out with a group of friends when my nephew ran around the corner and screamed at the top of his toddler-sized lungs "ANNIE SHURRN! TALKA YOOOOOU!" – My friends thought this was hilarious. The next day the whole freakin' school was yelling "Shurrn Talka You!" in the hallway. My friends and family have called me Shurrn ever since… Well, except for my nephew (who is in high school now, and is probably still hugely embarrassed by the story) he carefully pronounces "Aunt Sharon" now.
How did you get started blogging?I didn't choose the Blog life… The Blog life chose me
I am a voracious reader. I was keeping a hand-written book journal just so I could recall details and favorite quotes from the books I've read. I'm a child of the digital age, so posting my reviews on the internet seemed like an easy decision. I started blogging
my reviews on GoodReads
and gained quite a following there. More followers, more likes, and eventually I was being ranked in the Top 100 Reviewers in the country… then Top Reviewers in the World. At the at the end of 2014, GoodReads had me ranked as the following:

How did you become a Professional Reader of Erotica?
I was approached by a publishing house looking to cash in on the rising popularity of Erotic Romance after the Fifty Shades of Grey phenomenon. It took them a year to realize that the traditional methods of promoting new releases through stuffy literature critics weren't working out… Even though sales of Erotica were going through the roof.
They needed people reviewing their books who wouldn't immediately turn their nose up at the genre. They went looking for reviewers…
I had a following already, I wasn't easily offended, and I was reading several hundred books a year. I was drafted faster than an eight-foot basketball player to an NBA team. I spent a year reviewing books for that publisher, eventually two more publishing houses contracted my services… and the rest is history I guess. I no longer have contracts or receive any type of monetary compensation from any publishing house or author, but they still send me mountains of books.
How and Why did you create The Smutsonian?Freedom. There are a ton of content restrictions on book review sites and I find it stifling. I read about sex, write about sex, review the quality and hottness of a sex scene… But I couldn't post any photos considered to be "graphic" by random people who might stumble across my reviews. Anyone can flag a review as being inappropriate for any reason. When you're a popular reviewer, someone who isn't interested in Erotica might check you out to see why so many people are reading your reviews and BAM! – I'm talking about gang-bangs and deep-throating. Poor bastards might die of shock! So I created The Smutsonian. I own the site outright and can post anything I want here. Plus, with a name like "Smutsonian" you know exactly what you're getting here.
How did you come up with the name?
That one is easy, I didn't! I owe 99% of the credit for The Smutsonian's name to my dear friend Terry. He had the name rolling around in his head for a few years before I forcefully borrowed it – with his permission of course. Since I owe him so much on that front, I should probably mention that Terry is single, handsome, educated, has a great sense of humor, and is (I've heard) delightfully kinky – Message him on
Facebook
.
I also owe at least 1% of the credit to a national group of museums who shall not be named but to whom I am infinitely thankful for not sending me a cease and desist letter.
What do you feel sets The Smutsonian apart from your competitors?
I don't consider other Blogs or Bloggers to be my competitors. We share a common love of reading and we're all looking to introduce our followers to awesome new books.
That being said, The Smutsonian doesn't operate like a normal book blog, but I think our followers appreciate the differences. We don't participate in the usual book tours or "book blitz" posts. This means that all of our content is original, and we're not talking about a book unless we've read it or plan to read it. Our content is unique, and I'm always looking to discover new Indie Authors.
We get excerpts to include with 99% of the books we review, and I interview authors like I'm a smutty Barbra Walters.
The Smutsonian only publishes one post per day (so our readers know that we won't bombard their email) and we save all of the New Releases, Cover Reveals, Sales, Freebies, and general news for our Weekend Updated posts each Saturday. This means that we keep our readers informed, but we're not filling anyones inbox with a ton of extra stuff.
You recently polished off a seemingly impossible reading goal. Would you talk about that for a moment?
Sure, I set a goal to read 200 books in 2014. I surpassed that number the final total for the year was
214 titles.
How the hell do you read that many books?
I've always been a quick reader, and I've always got a book within arm's reach. Just like with anything else – you can
make
time
for things that you love. Honestly, if I wasn't blogging full reviews, I could easily read over 300 books a year, but where's the fun in that?
Do you blog reviews for every book you read?Yes, but not at The Smutsonian. This site is reserved only for Erotica and I still read many books which don't fall into that category. Those reviews are posted on GoodReads but not here.
What is your all time favorite book?
My absolute favorite book isn't erotica (shocker) it's
Neverwhere
by Neil Gaiman. I've read every book and collection Gaiman has published. While I was in college I would carry around paperbacks of his novels and sneak chapters in between my studies. It was a beautiful reward for my hard work. I think I've purchased Neverwhere at least fifteen times – hardcover, paperback, eBooks – I loan out my copies, I wear out paperbacks, and buy them as gifts… I think if you asked me the top ten books I've ever read, Gaiman would have at least three on the list. There's something about his writing style which brings me joy each and every time.
OK, so if your favorite book isn't an erotic selection, what is your favorite piece of Erotica?
Ah… Not getting out of this one, eh? My Favorite books change all the time. Erotica is an ever-expanding and evolving genre, so I find something new and different to love every month.
Would you say becoming a Blogger has changed you? In what way?
Well, as I mentioned before, I don't read as many books as I would like because it takes a great deal of time to write a thoughtful and engaging review.
What would you say was the toughest part?Blogging is incredibly time consuming. In addition to reading and writing the actual review, there's graphics, formatting, scheduling, emails, interviews, LOTS of Social Media cross-promotion, and staying "in the know" about all the things happening in this industry.
As far as reviewing is concerned – Writing a Five Star review is hard for me to do. Since I rarely rate a book so highly, I feel obligated to justify my love of the book… Which is odd, I guess, because all these reviews are simply my opinion. Occasionally I suffer a blogger version of writer's block, but most of the time, a review just flows out of me.
What is the most rewarding part?
When I introduce readers to an emerging Indie Author and they see a wild boost in their sales and followers, it puts a smile on my face. I've also done quite a bit of publicity for books, authors, and anthologies who donate their profits to charity.
Before you think I'm the Mother Teresa of Bloggers, I'll admit the best thing about doing this is when an author mails me a copy of their book with a personal inscription. At the end of the day, I'm just a fan giving my opinion, so I'm always touched with an author reaches out to me.
Was there ever a time when you felt like giving up? What made you change your mind?
Life is more important than Blogging, so sometimes I would fall a bit behind or feel that I had over-scheduled myself. I've (*knock on wood*) never missed a deadline, but I feel the time crunch every now and then. That's why I brought in a crop of Guest Bloggers this year. I'm still writing the majority of the reviews for The Smutsonian, but there's not as much pressure.
What does your day-to-day life consist of? What else do you do, aside from running The Smutsonian?
I have a full time job as a Personal Assistant at a corporate office… And my co-workers have
no
idea
that I run a smutty empire when I'm off the clock. I'm not trying to hide what I do, but I don't advertise it to my co-workers either. Eventually I'll be discovered, and that will be a fun conversation LOL!
What about the people who know about your "smutty empire" what kind of reaction do you get?
There aren't a ton of people in my life who know the full extent of what I do. I became world famous in this industry in a matter of months. Things seemed surreal on the upswing, and I think I was waiting for my fifteen minutes of fame to end… I love the attention, but I wan't expecting it to last this long, I guess. Now it feels weird to bring it up to someone in casual conversation like,
Yeah, so I'm one of the top 10 Book Reviewers in the World, I have over 20,000 subscribers, and I'm kind of a big deal…
I'm quite conscious of the fact that if you have to tell someone you're a celebrity… You're probably not that big of a celebrity. I'm hoping that one day I'll be outed and my family, friends, co-workers, and acquaintances can have their moment of confusion and we can all move on.
I love doing this, and I plan to continue blogging on The Smutsonian for a long time. It's not something I'm trying to keep hidden, I'm just not sure how to break the ice most of the time. I live in a happy little bubble right now and it's awesome.
What advice do you have for new Bloggers?
Read what you love. Don't agree to read a free book if you wouldn't buy it based on the information you've been given. Highlight your books so you can go back after you've finished and refresh your memory before writing a review. And most importantly,
don't
be
an
asshole
.
What's next for The Smutsonian?
Well, we've got a new crop of Guest Bloggers this year and
we're looking for more
. We'll be hosting MM March again this year – a very popular event where we only read MM titles during the month of March.
If you could turn back in time and do things differently, would you? What would you change?
I've been half-assed writing a novel for a little over a year now. I don't spend much time actually writing, but I think about it frequently. I regret not giving myself enough time to finish that book, and I'll admit that I use this blog as a convenient excuse not to write. It's funny, when I ask authors that same question, I'm often told that they regret waiting so long to devote themselves to their writing.
Fun facts:
If you could wish for any one thing, and it would immediately come true, what would you wish for?
I'd love to be independently wealthy enough to blog full time.
If you were stranded on an isolated island, what's the one item you'd absolutely wish to have with you?
The mountain of books I haven't had a chance to read yet.
Name your favorite fruit.
Pears
Favorite season?
Spring
How about favorite time of the day?
I am a late night kind of girl.
Were you a Girl Scout?
Nope. I did ballet, tap, and I was classically trained in violin.
Favorite food for breakfast?
I don't really eat breakfast, but I drink as much coffee as I can stand.
What is the latest book you've bought and read?
See that "bought" part can be tricky because I'm provided with about a squillion books a year from publishers, agents, and authors. That being said, I still buy the crap out of books – and if I get a free eBook of something I love, you can bet I'll buy it in print.
The last paperbacks I bought were the first three books in Sylvia Day's
Crossfire
series. I have them on my Kindle, but the paperbacks were on sale at my local bookstore for $4 each.
What was the last book you absolutely fell in love with?
I fall in love often, but my last real "WOW!" moment was while reading
Claiming Addison
by Zoey Derrick – it's the first book in her series 69 Bottles and it
blew
me
away
. It's a Rock Star MMF Romance with an amazing cast of characters and I promise it will knock your socks off.
Is there a book you keep meaning to read, but haven't gotten around to it? Don't worry, we all have ridiculously long TBRs!
Yes, and I'm making an effort in 2015 to rectify the situation.
I want to catch up on J.R. Ward's Black Dagger Brotherhood series by the time the next book comes out. I'm on book 11, so I'm not far behind.
I'm just starting The Fever series by Karen Marie Moning, and I'm kind of embarrassed it took me so long. I recently read the first two books in the series – you can expect a review of Darkfever on January 11th & Bloodfever on January 18th.
I'd also really like to read the PsyCop series by Jordan Castillo Price – I think it's going to be one of the first things I tackle in MM March.
Do you recall the first piece of Erotica you ever read?
The Claiming of Sleeping Beauty
by A. N. Roquelaure (pen name of Anne Rice) and I
read it at an age which (in hindsight) was wholly inappropriate for my level of sexual awareness…
Due to that fact, I was completely overwhelmed with what I read in the pages of her book.
I remember being completely sucked-in and transfixed by the elaborate (and oftentimes absurd) fantasy world full of debauchery within. That tiny paperback, pages now yellowed, spine cracked and flaking, was once tucked away under my mattress like a Playboy… Now it sits proudly – though tattered with love – on my bookshelf…
Do you collect things, like stamps, or key chains, or shoes?eBooks. If all the books in my Kindle magically became paperbacks, I could stack them up and build a three-bedroom home out of them.
Favorite color, you know you want to tell us!
Blue
Coffee or tea?
Coffee, with sugar and milk.
Sweet or salty?
Both at the same time
Drama or comedy?
I like them both, but favor Comedy in all things.
Cats or dogs?
I have two adopted dogs. A nine year old Jack Russel Terrier named Conor and a four year old Beagle named Trillian Tiberius (Yes, that's a Douglas Adams
and
Star Trek homage. Yes, I'm a giant nerd.) Here they are with Santa a few weeks ago: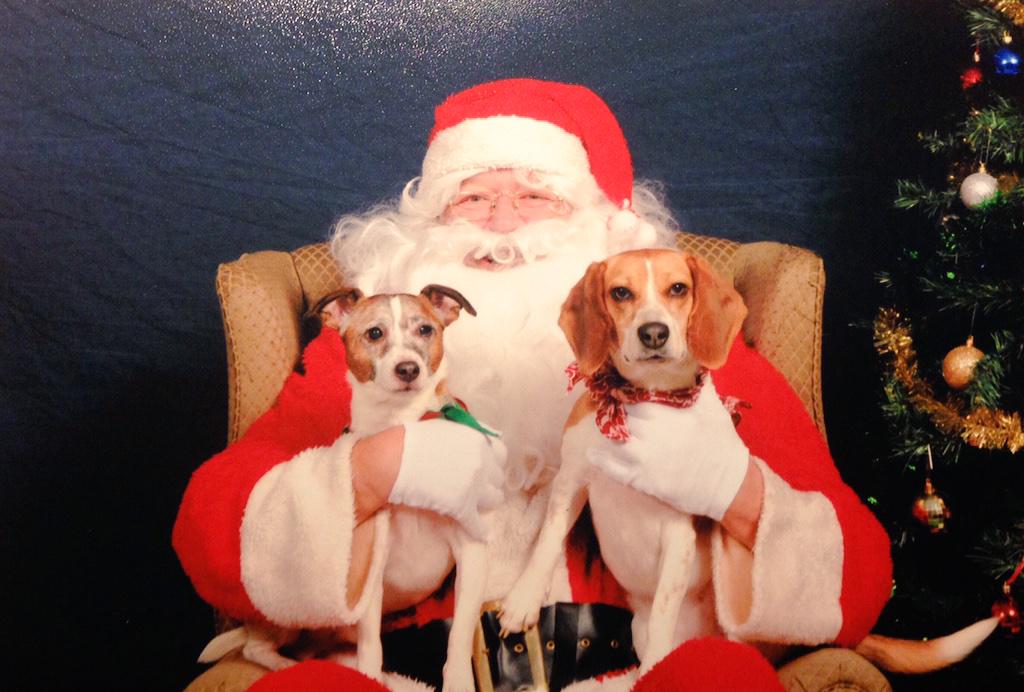 Dinner by candlelight or a night out clubbing?Dinner by Candlelight. But I'll listen to club music while I get ready
Do you have a favorite Book Boyfriend/Girlfriend?
I keep a harem full of Book Boyfriends. My top man of the moment is Max Stella from
Beautiful Stranger
by Christina Lauren, but you can check out my Top 5 Book Boyfriends
here
.
Do you have a guilty pleasure?
I have a serious thing for gay porn… Particularly
Jake Jaxson
's whole crop of
Cockyboys
… And everybody knows I have a crush on Jake Bass… So, maybe I'm not so guilty about it afterall
Favorite Swear Word?
A good solid use of the F-word is the foundation of the English Language. It's fucking classy.